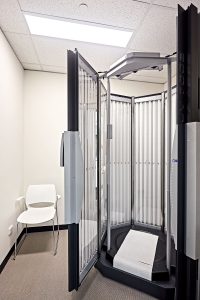 Phototherapy is a treatment prescribed by dermatologists using ultraviolet light to treat different skin conditions. It is well established that natural sunlight is beneficial in certain skin conditions and the ultraviolet part of the radiation produced by the sun is used in phototherapy.
Dr Rose Mak's Melbourne-based Dermatology clinics, located in Collins Street and Berwick, use top of the range Waldmann narrowband UVB (NBUVB) phototherapy units for full body phototherapy treatment.
What skin conditions can phototherapy treat?
Common skin conditions treated by phototherapy include psoriasis, eczema and vitiligo. A number of itchy skin conditions can also be treated by phototherapy. In our clinic, Dr Mak would first assess you and phototherapy treatment may be considered if this is deemed suitable.
What does phototherapy treatment involve?
The treatment involves patients undressing to their underwear, protective eye goggles are given beforehand and must be worn throughout treatment, and patients would then stand inside a cabinet lined with medical grade UVB emitting light bulbs. Treatment times are short, initially starting with several seconds and may be gradually increased to a few minutes in a treatment course. After treatment patients can get dressed and return to work or home.
Some common questions about our phototherapy treatments:
When can I attend for phototherapy at Dr Mak's clinics?
Phototherapy treatments are available in our clinics Monday to Friday, between 8.30am-5pm.
How can I book an appointment for phototherapy?
Simply call us on 03 8535 4798 to book your phototherapy treatment
Are phototherapy treatments bulk-billed?
Yes, our phototherapy treatments are bulk billed.